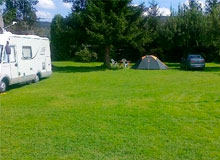 The campside is located in a spa town with a thermal swimming pool in the foothills of the Jeseníky Mountains. There are plenty of tempting cycling and hiking routes around the campside. The  village Velke Losiny is mainlny known for the oldest paper factory in Central Europe, unique castle, stunning XVI century park and the Thermal Spa, which offers the healing water rich in sulfur.
Campside:
The accommodation is possible in tents and caravans (possible access to the electricity). We rent out trailers, dinghies (for a larger groups) and cabins.
Our guests have access to a shared kitchen equipped with a fridge, microwave and crockery. There are shared bathrooms with hot water ( without any chips). In the camp you can use a grill or a fire.